Dance! 2 Much Booty in da Pants!
§ Friday, January 28, 2005 @ 2:41 PM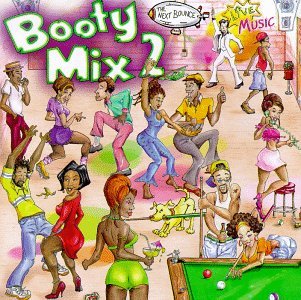 Booty Mix, Vol. 2: The Next Bounce II
There it is ladies and gentlemen: Booty Mix, Vol. 2: The Next Bounce II. The song "2 Much Booty (In da Pants)" by Soundmaster T is indeed the song which inspired our team name. If you don't already have one, I suggest you all run out and pick up your very own copy of this CD. But, in the words of LeVar Burton: You don't have to take my word for it. Here are some reviews:
aLBERt says, "I bought this CD a LOOONG time ago, and I still love it. It's the best songs from the late 90's. You can really shake you booty to it!" How could you argue with a guy who begins and ends his name with lower-case letters and fills the middle with upper-case? It's like a Twinkie.
Alfredo Peralta of Cutler, CA says, "THIS IS A GOOD WORKOUT CDWHEN YOU WANT TO GO LOW WHILE KEEPING MOVING! FOR HOME AUDIO FANS, IF YOU WANT YOUR POWERED SUBWOOFERTO DO A WORKOUT, YOU SHOULDBUY THIS CD!" Apparently Alfredo thinks we're all deaf.
Ryan, a Heather Mack fan from Ohio says, "I love this CD, i love to do the bump-n-grind with my boyfriend jimmy cassidy to this song, you have to buy this cd it rocks...i love you jim" Well, Jimmy Cassidy loves you too Ryan!
And finally, an anonymous music fan wrote, "This CD contains perhaps the best, high-energy bass track ever recorded, "Scarred", by Luke (Luther Campbell of 2 Live Crew Fame). If you like to move, if you're into car audio, this CD is a must have."
So I ask you, why haven't you bought this CD yet? Operators are standing by and supplies are going fast.