§ Tuesday, January 29, 2013 @ 10:10 AM
Wow, we were not expecting this. I mean, sure, we were leading through 100 questions, and we were still second late in the contest, but we fell behind and couldn't quite keep up with the top three. Going into the Garrudas, we knew that we were going to need to snag the Super Garruda to catch the top three. And then we stumbled upon this: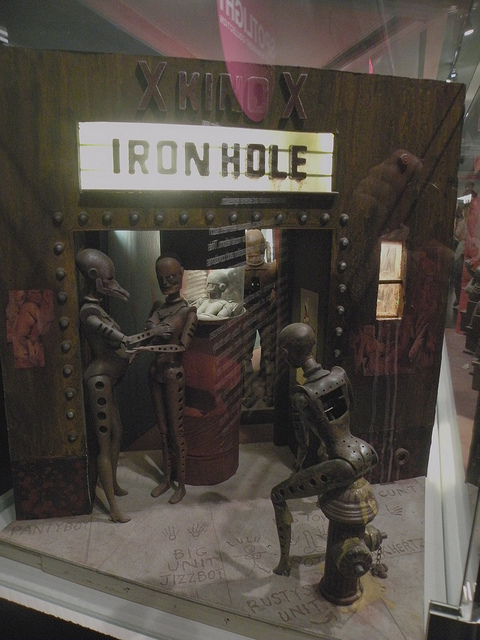 Yep, there's the answer to this year's Super Garruda, "BIG UNIT JIZZBOT"—just to the left of "LULU"—in a photo posted on Flickr. We called it in, and the celebration began. We knew that 100 points was enough to catapult us into the lead, and all it would take was at least one of the top three to not find this for us to find our way to the podium. But the wait was on. And then GM Ethan Landes interrupted the Super Garruda, said some knucklehead had posted the answer on Facebook (SERIOUSLY?!), and the time was being cut short as a result. As we listened to Ethan read off the teams that called in with the correct answer, we thought we heard him read off all three teams ahead of us. Eh, fourth place would still be our best finish ever, and we'll always be able to say we got a Super Garruda, even if 18 other teams did so, too.
Even if we came up just a little short, we still showed up for the awards ceremony, like we do every year, just to see the spectacle. And then Ethan started reading off the off-campus teams. And he read our final score. "That can't be us!" we thought. And then he read our team name. Holy crap! Third place! Matt run up there with the flag in hand, grabbed our prize—a giant block of cream cheese with candy canes sticking out of it and wearing a mask,—and the celebration began. We partied late into the night to celebrate finally finding the podium. Sure, we fell short of winning, but top three is nothing to sneeze at. I mean, we never imagined we'd be able to get anywhere near the top three; not with as disorganized as our team is, and not with how many fewer people we have than the other top teams. But we finally did it, and it feels like winning to us.
I'm so proud of the way our team did more with less this year, and we can't wait to return next year!
Oh, and I almost forgot to include the link to the P-C article mentioning the winners:
Winners named in LU trivia contest [Appleton Post-Crescent]